Playing Simcountry and participating in the war game
Playing Simcountry and participating in the war game
If you choose to play the game including the war options, you must build an army to defend your country. New players are fully protected against wars by their secured mode setting. The protection prevents others from attacking the country and gives the new president some time to build his defense. Secured mode will remain in force until you decide to turn it off.
While in secured mode, you are able to build an army and even declare war and fight countries that do not have a president. These are computer controlled countries. The first war may be very easy to win and you can end up with an empire of two countries.
Your leader country will remain in secured mode. The conquered country is protected from war for two weeks. By then it should be able to defend itself. It can obtain weapons from the market or from the leader country to build up quickly.
Secured mode is always active in one country only. More countries can be protected temporarily by the use of temporary war protection. See the war page for more details. Also check the boosters feature to find out how to obtain temporary war protection for your countries.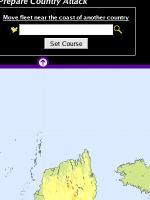 Most players do play the war game and there are some who have built huge armies and try to control large areas of the worlds.